DIAGNOSTIC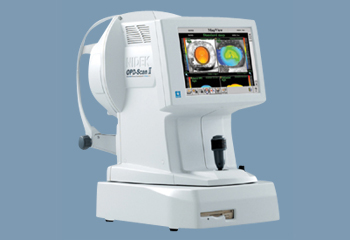 The Marco 3-D Wave ARK 10000 combines three advanced technologies plus wavefront analysis, in one easy-to-use refractive diagnostic workstation. With the Marco 3-D Wave a practice can obtain refraction, corneal topography, optical path difference (OPD) and wavefront analysis. The Marco 3-D Wave allows the user to evaluate a patient comprehensively, perform refractive and cataract surgery screenings, evaluate postoperative complaints, and determine pathology diagnoses. In short, the Marco 3-D Wave gives outstanding vision diagnostic capabilities that in the past were simply unavailable.
With the remarkable Marco 3-D Wave, Marco gives you an instrument that can evaluate the patient's total optical system. Measuring both low and high-order aberrations on a single axis, the Marco 3-D Wave gives you the power to diagnose patient complaints that simply would not be diagnosed before.
Features:
Marco 3-D Wavefront Analysis For True Vision Diagnostics:
• Optical Path Difference (OPD)
• Wavefront High-Order
• Wavefront Total
• Eye Image Displaying Mesopic and Photopic Pupils
• Internal OPD
• Refractive Maps
• Point Spread Function
Applications:
• Evaluating all eyes not correctable to 20/20
• Differentiating corneal from lenticular aberrations
• Comparing objective to subjective point spread function (PSF)
• Assessing cataract patients' symptoms and "quality" of vision
• Pre- and post-posterior capsular opacification (PCO) effects
• Evaluating post-op IOL tilt, decentration, multifocal optics
• Assessing contact-lens candidates for soft- versus hard-lens wear
• Contact-lens care, including orthokeratology (e.g., CRT)
• Evaluating corneal aberrations secondary to certain lid and ocular surface pathologies
• Monitoring progress and visual effects from varying ocular pathologies and surgeries
• Assessing pre- and post-corneal refractive surgery patients
• Evaluating post-op refractive-surgery complaints
• Counseling patients on their specific benefits (and limitations) with conventional versus wavefront-guided custom ablation
Nidek OPD
The NIDEK OPD-Scan II provides information on corneal topography, wavefront, autorefraction, keratometry and pupillometry in one unit, utilizing state-of-the-art imaging and analysis technology developed specifically to measure normal to highly aberrated eyes. The system offers a variety of data maps, allowing highly accurate and reliable information for optic diagnostics.
Heidelberg HRT II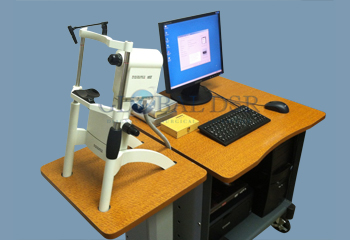 The Heidelberg HRT II Tomographer uses scanning laser tomography to produce the 3-dimensional images, which allow precise measurements of optic nerve head parameters. This technology is purported by Heidelberg Engineering to differentiate between normal eyes and glaucomatous eyes even before visual field defects are present. The Heidelberg HRT II features automatic image acquisition, sector analysis for early glaucoma detection, and automatic progression analysis. Also, the Heidelberg HRT II produces results which are presented in a format that is understood by patients to ensure their compliance. The Heidelberg Retina Tomography operation software provides a variety of functions to quantitatively describe the three-dimensional properties of the retina and the optic nerve head and to precisely detect and describe topographic changes
The Heidelberg Retina Tomograph (HRT) is a confocal scanning laser ophthalmoscope. A laser light scans the retina in 24 millisecond sequential scans, starting above the retinal surface, then capturing parallel images at increasing depths. The stacks of images can be combined to create a three-dimensional (3-D) topographic image of the retina.
Topcon Specular Microscope
The Topcon specular microscope represents the latest in endothelial cell analysis, algorithms, and computer technology. The Topcon easily captures consistent, high quality images of the patient's corneal endothelium using a patented method that identifies the position of the cellular interface
Nidek NT-2000 Non-contact Tonometer
Non-contact (or air-puff) tonometry does not touch your eye but uses a puff of air to flatten your cornea. It is often used as a simple way to check for high IOP and is the easiest way to test children. It may also be used for people who have had LASIK surgery. Noncontact tonometry does not use numbing eyedrops.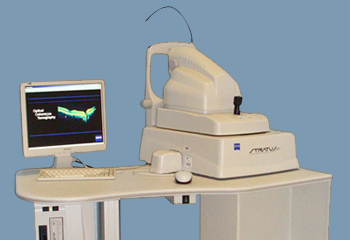 The Zeiss Stratus OCT III is a diagnostic imaging device that provides direct cross sectional images of the retina for objective measurement and subjective clinical evaluation in the detection of glaucoma and retinal diseases. The Zeiss Stratus OCT III produces images and analyzes macular thickness, the retinal nerve fiber layer and the optic disc using the latest technology for high resolution scans.
The Zeiss Stratus OCT III is the only instrument to offer three diagnostic capabilities including Macula, RNFL, and Optic Nerve Head.
The dynamic information provided by the Zeiss Stratus OCT III produces retinal images never seen before. The Zeiss Stratus OCT III is a tomographic imaging device unlike ordinary topographic units available. The complete cross-sectional view of the retinal structure provided by the Zeiss Stratus OCT III demonstrates actual histology. The result is data that enhances your ability to diagnose and manage a patient's glaucoma or retinal disease.
Features:
• The Zeiss Stratus OCT III is clinically the most versatile and valuable technology available
• Zeiss OCT III uses an optical measurement known as low-coherence interferometry
• Resolution is ≤ 10µm
• The Zeiss Stratus OCT III uses high resolution scans in image acquisition without the problem of corneal birefringence
• High resolution scans can acquire more than 500,000 data points depending on user-selected scan resolution
• Zeiss Stratus OCT III has provides diagnostic capabilities: Macula – RNFL – Optic Nerve Hea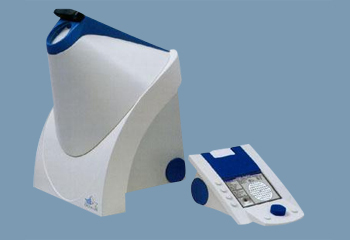 The Oculus Easyfield Perimeter is an exciting compact perimeter that performs static perimetry up to 30°. The Oculus Easyfield has been designed as a Visual Field Screener and Perimeter, offering features usually available only in large units.
The Oculus Easyfield has an integrated bowl with an 11.81" radius, and distance corrected lens is adapted to the Goldmann standard. The Oculus Easyfield also fulfills the ISO-norm 12866 for perimeters.
The Oculus Easyfield has a fixed point grid with 135 test locations including 30-2. The Oculus Easyfield also offers various testing methods including, fast threshold (3 minutes), normal threshold (6 minutes), and suprathreshold with numerous testing strategies.